So, The Meister is at it yet again! As many followers of CGCM or Decibel Geek or personal Facebook friends know, Rich "The Meister" Dillon is a rock show freak. He travels, often far and wide for the gig. He is known to endure 6-hour bus trips in the middle of the night to get to and from the gig, whether scheduled to work the day after or not. Or flying halfway around the world from Toronto to Tokyo for 2.5 days…and that was to see a local Toronto band he's seen a billion times! He is simply unstoppable. Many might say fucking nuts! He loves the music and does his best to support the scene. Enter CALL OF THE WILD FESTIVAL.
So, seeing a new (relatively or in this form at least) event come into focus in his crosshairs is an exciting thing. He's been burned in the past on first-time events. Dodgy promoters, unprofessionalism, and basic scammers, but deterrence has not entered the picture. The Call of the Wild Festival taking place in Lincolnshire, UK May 24-26, 2019 will see his presence. The most attractive thing about any music festival event is, of course, the band roster. This festival was interesting from the early stages with its diversity and a wealth of unknowns. He loves to discover awesome new bands, and CotW has delivered in spades already.
Take a peek at his recent reviews from bands on the CotW bill: Razorbats – "The City" / The Treatment – Power Crazy / Trucker Diablo – "Other Side of the City" / The Wildhearts – Renaissance Men / Bai Bang – Best of Four
Or some past reviews: Burnt Out Wreck – Swallow / Trucker Diablo – Songs of Iron / Trucker Diablo – Rise Above the Noise / Trucker Diablo – Fighting for Everything / The Treatment – This Might Hurt / The Treatment – Running with the Dogs / The Treatment – Generation Me / The Erotics – Stuck Between Venus and Mars (EP) / Lords of Ruin – Life is a War (EP)
CALL OF THE WILD FESTIVAL – Tentative Meister Targets
As with most every festival, especially one with a high number of bands such as CotW, there are schedule clashes. Of course, it sucks, but it is what it is and some hard decisions lay ahead. Here's my plan as it stands today. Naturally, some things may change on the persuasion of friends and alcohol. There are two "Hands Down DO NOT MISS" bands and that's Trucker Diablo and Burnt Out Wreck (which made my top 10 albums of the year in 2017). There are some open spots as well. Which doesn't mean that I don't like the bands on at that time, but more that I'm unfamiliar and plan to see what they're all about.
Friday, May 24, 2019 – Call of the Wild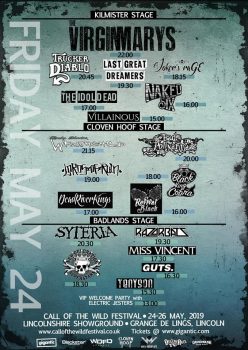 The Idol Dead 17:00 Kilmister Stage – love, love, love their 2012 album Dark Little Hearts. Not sure if there are any more in their library.
New Generation Superstars 18:30 Badlands Stage – I have recently discovered this UK band and have been enjoying what I've heard from their catalogue. Their latest album, King of the World appeared in late January.
Lords of Ruin 19:00 Cloven Hoof Stage – Back in 2013 Lords of Ruin independently issued the Life Is a War EP. Receiving it via a digital promo, I liked the EP and positively reviewed it (Album Review). Then I all but forgot about Lords of Ruin until the Call of the Wild poster!
Last Great Dreamers 19:30 Kilmister Stage – Having checked them out on recommendations, I have enjoyed the Retrosexual and 13th Floor Renegades albums that I've been spinning the past few months. Now if they will just play that one song I really want to hear…
Razorbats 19:30 Badlands Stage – A new discovery during my pre-festival prep…check out my review of their latest single – Razorbats – "The City" (Single Review). Unfortunately, they clash with LGD above, so I may catch either half sets of each or bounce back and forth…we'll see
Syteria 20:30 Badlands Stage – Hearing the name in the past, mostly due to association with Jax Chambers (also the guitarist for Girlschool), it's Call of the Wild that finally got me listening. Unfortunately, the band recently had all their gear stolen out of their van. Thankfully arrangements have been made and they can borrow. But with the time clash against Trucker Diablo, it appears I won't get my chance to witness Syteria.
Trucker Diablo 20:45 Kilmister Stage – Under no circumstances will this set be missed. Don't get in my way, you've been warned…lol. It's a big thanks to Trucker Diablo that rekindled my love of music that was dormant for several years with their 2013 Songs of Iron album…reviews.
Saturday, May 25, 2019 – Call of the Wild
The Brink 12:30 Kilmister Stage – One of the last additions to the CotW roster, I've just previewed the album. It's coming out next week via Frontiers Music Srl and they seem a fitting start to the day.
The Erotics 1:30 Kilmister Stage – I started listening to The Erotics shortly ahead of CotW appearing on my radar. Thanks to some good advice, I checked them out and positively reviewed their Stuck Between Venus and Mars (EP Review). The newest full-length, The Songs Remain Derranged drops on May 17, 2019.
Fire Red Empress 15:30 Kilmister Stage – Are a band that I've sampled some things from thanks to CotW. So far I like what I've heard and looking forward to the live show.
Falling Red 16:30 Kilmister Stage – Great band and once again a CotW discovery. Unfortunately, the news was recently announced that bass player Mikey Lawless is diagnosed with incurable terminal brain cancer. In an extremely classy move on their part, CotW has secured the slot for Falling Red and will not replace them. If Mikey is not up to playing that day, so be it. *since originally writing this, Falling Red have announced that they are not able to play the CotW.*
Burnt Out Wreck 18:00 Cloven Hoof Stage – Even though they are a fresh band, this is a bucket lister for me. I reviewed the debut album Swallow for Decibel Geek and it made my top ten of the year in 2017. Containing Gary Moat from classic band Heavy Pettin (also a huge bucket lister), this is a must see. Burnt Out Wreck – Swallow (Album Review).
Those Damn Crows 19:00 Kilmister Stage – Discovered thanks to Cloven Hoof's Paul Stanley when he joined us on CGCM Podcast for EP#53-Chat with Paul Stanley. Haven't heard an album, but loved the song that Paul featured on the podcast.
The Kut 20:00 Cloven Hoof Stage – Checking out a couple of things from this young band, I am intrigued so far. I never would have crossed their path if not for CotW. So, I'll be catching their live set and look forward to discovering something new.
Speed Stroke 21:15 Cloven Hoof Stage – Yet another "thanks to CotW" find. This Italian hard Rock/Sleaze/Punk band has some truly addicting songs. Hopefully, I can get in most of the set before The Wildhearts.
The Wildhearts 21:45 Kilmister Stage – Hearing of The Wildhearts for years, but never getting into their music was a tragic mistake. A mistake that saw correction thanks to a huge fan who impressed upon me the need to listen. That and their scheduled appearance on the last MORC Cruise ship. Unfortunately, passport and border issues prevented The Wildhearts being aboard ship for the voyage. But I began checking out tunes and liked a lot of what I heard, but this latest release is storming! I reviewed the Renaissance Men album shortly ahead of release day and it's been an MP3 player staple since. Really excited for this set! (Album Review)
Sunday, May 26, 2019 – Call of the Wild
Bai Bang 15:00 Kilmister Stage – A definite target especially just recently reviewing their forthcoming Best of Four album (Album Review). I did once fairly recently catch Bai Bang live during a trip to London, UK back in Sept. At the time I knew little of the material, yet enjoyed the set. Great melodic hard rock output from these Swedes.
Tomorrow Is Lost 15:50 Kilmister Stage – A discovery thanks to Paul Stanley over at Cloven Hoof Rum. After I began chatting with Paul and he came on board as a CGCM Podcast sponsor, he posted a video from this young band on the Cloven Hoof Facebook page. I clicked, I liked and now I will see live.
Bigfoot 17:30 Kilmister Stage – This UK band was impressive at Hair Metal Heaven Festival a couple of years back. I came away from their set on the first night with a couple of CDs. Unfortunately, the band are hanging up the guitars after this last tour, so I look forward to catching them a final time. They are on tour with The Treatment…so I may even be able to squeeze in a second viewing on Monday, May 27, in Cambridge…
Kickin Valentina 18:30 Kilmister Stage – I met Jimmy Berdine at a function in Florida when I was down there back in 2015 for the Monsters of Rock Cruise. I've been listening to Kickin' Valentina since then. The band has played Cruise related events a few times and has garnered quite a following. This will be my first time with their new singer.
Bullets & Octane 19:30 Kilmister Stage – Somewhere, somehow a Bullets & Octane album ended up in my digital collection. I get so much stuff from promo companies that I forget the sources. Often I don't even have time to listen to it, let alone write a review. But Bullets & Octane's 2017 Waking Up Dead release I did play. And I liked it but never found the time to review and it then got swallowed up in the digital ocean. Thanks to Call of the Wild, I've unburied it and its seen rotations in recent weeks.
The Treatment 20:30 Kilmister – This band came to my attention with their debut album in 2012. I got the opportunity to see them perform that same year when they toured as the opening act for KISS. I reviewed the show, album and did an email interview with the band. I've reviewed all their albums since and I'm stoked to be able to catch them live once again after all these years. (Treatment – Power Crazy (Album Review)
Witchtripper 21:15 Cloven Hoof Stage – Another new band discovery. Checking out a few songs on YouTube, I really like what I've heard so far. I will definitely catch as much as I can of this set ahead of HCSS.
Hardcore Superstar 21:45 Kilmister Stage – Of course, Hardcore Superstar is a big draw. I've seen them a couple of times and they always blow the audience away. A lot of folks didn't know who they were when they were announced on Monsters of Rock Cruise in 2016. Now they are one of the most requested bands in cruise Facebook groups. The Swedish sleaze rockers are a perfect ending to what promises to be an awesome three days of rock n roll in Lincolnshire!
Cheers,
The Meister
Find more of my album reviews here: Meister Music
CGCM Podcast / Meister on Facebook / Meister on Instagram / Meister on Twitter / Meister's Email
[embedyt] https://www.youtube.com/watch?v=po1q0HoVlw8[/embedyt]