Exactly one week from today, I will be airborne! As I prepare to head out from Toronto to Miami for my ninth Monsters of Rock Cruise, I thought I'd jot down some thoughts. Many MORC-ians may indeed know me. Perhaps you read my last year's pre-sail blog on Decibel Geek (link). Maybe you're a part of the EH Team (the group that I started some cruises back to find more Canadians). Or possibly you've listened to CGCM Podcast EP#54 with guest April Lee (link). And if we haven't yet met, let's adjust that!
I'm often one who doesn't overly support the Facebook memories thing. Not too often is it a post from the past that I feel like resharing to the current audience. But recently is different. Recently FB has begun graciously showing me posts made during past Monsters of Rock Cruises. Seeing these photos. Remembering these times, that frankly had sunk deep into the recesses of my mind. It's been a major anticipation and excitement boost for the upcoming voyage.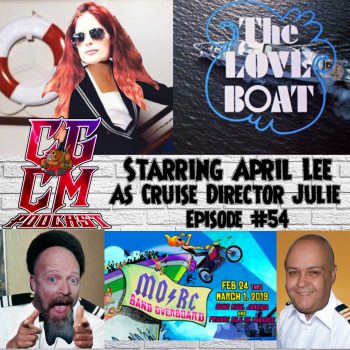 Now, having been aboard nine MORC voyages (#9 coming up), things become old hat. I mean it's always a truly fantastic time, but the "walking on pins and needles", burst from excitement feeling takes longer to surface each year. It really started to get me a couple of weeks back as the seed was planted during the CGCM Podcast's episode with guest MORC's April Lee. If you haven't listened yet to this audio podcast…here's the link: CGCM Podcast EP#54 – MORC with April Lee.
Then I appeared as a guest on another podcast concerning MORC. (Growin' Up Rock – MORC Preview #2 with Rich "The Meister" Dillon). The seed began to grow. This week's FB memories have driven it over the edge. I'm making playlists with only MORC bands! Mentally planning my wardrobe (big decision on which black "metal" tees to take)! I'm thinking of friends that I see but once a year thanks to MORC. And of course, I'm thinking of past cruises. Past performances. And reminiscing in general.
I can't wait to add to the stories which include: Attack of the bathroom skivies. Violation of Henry Extra. "He's not behind me is he?" Meet you at PF Chang's. Willy pizza. Rowboat chairs. Exploding female bowels. And so many more…all of which means nothing to you, the reader. You'll have your own I'm certain, and if this is your first, you'll have your own by the time you're done.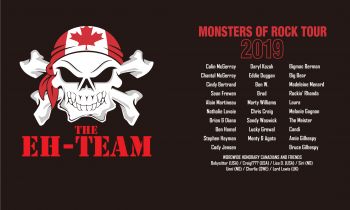 As I stated in last year's blog, it's not about the bands anymore. Those not in the know think it's about the bands. And it is to an extent. The bands are what started it. What brought us all together. But, It's really about my fellow cruiser. The worldwide family that I've been accepted into as a part of this experience. There is no racial prejudice in our family, no discriminations. At some point quite recently I caught myself saying "#10 will be the last one". How the fuck did I ever think that #10 could be the end? Somebody make sure to slap that silliness out of me will ya?
2019 sees the promise of more new experiences. My fave little Toronto band, Diemonds playing at the pre-party. I've seen them live in Toronto countless times. I've traveled to the UK and indeed even Tokyo, Japan to see them. Now this will mark the fifth country I've caught Diemonds live…so that's exciting. My friends in Brighton Rock are gonna tear a new asshole to a lot of folks during their first outing on MORC. The 2019 EH Team has many more not yet but soon to be friends and MORC family reaching out. I can't wait to meet you all and rock on the high seas.
After we return to port I am taking a road trip to New Orleans via the Everglades. New places in the world I've not yet seen. In New Orleans, I will meet up with two very dear friends. In fact, it's this husband and wife team that made my very first MORC as special as it was. They were the first people I met and they were so welcoming and kind to a terrified, but excited Canadian. So there's that too.
Oh ya, and some bands are playing concerts on a cruise ship!
Ahoy Mateys!
Cheers,
The Meister
CGCM Podcast / Meister on Facebook / Meister on Instagram / Meister on Twitter / Meister's Email