CGCM gets banged! Bai Bang is a Swedish Melodic Rock band that formed back in the late 80s in Helsingborg, Sweden. With a back catalogue of eight studio releases, the band has always worked hard in the shadows. Often touring, they love the live show experience. Now with Diddi Kastenholt (vocals) the sole remaining original member, Bai Bang joins Lion's Pride Music. In celebration of that union and this new era of the band, Bai Bang – Best of Four releases on May 31st via Lion's Pride Music.
The Bai Bang – Best of Four release showcases selections from the band's most recent four full-length albums. As shown on the cover Are You Ready (2009), Livin' My Dream (2011), All Around the World (2013), and Rock of Life (2017) all contribute. According to the information I received, Diddi himself chose the tracks for Best of Four and Bai Bang is currently working on new material to surface in 2020. Back in 2005, the band released a Best Of from the first four albums Enemy Lines, Cop To Con, Ridin' High and Attitude. So four albums later Best of Four is a logical celebration of the Lion's Pride union.
Bai Bang Short Bio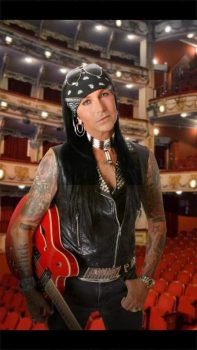 Bai Bang toured a lot since beginning in the late 80s, all over Europe, Canada, Japan, and the USA. Playing shows with the likes of Alice Cooper, Nazareth, and Ratt. Major festivals have also seen the band on stage at Sweden Rock Festival, Wacken Open Air and Rocklahoma. Their 2009 Are You Ready album was nominated for the best sleaze/glam album in Sweden and it was voted as "The Best all round party anthem album of the year" in the Australian magazine The Rockpit.
The current membership roster of the Swedish veteran hard rockers sees Filip Vilhelmsson (lead guitar), Poffe Roxx (bass), Oskar Wennberg (drums), and Micke Rosengren (current touring drummer) alongside Kastenholt.
Where did the band name themselves? My guess comes according to Wikipedia (with edits): Bãi Bằng is an industrial area northwest of Hanoi. It is home to the large paper mill of the same name, completed in 1996. The construction of the Bãi Bằng paper mill was controversial. This project was signed as a cooperation between Sweden and then North Vietnam in 1969, with construction beginning in 1975. However, many problems caused the project to take until 1996 before reaching the projected capacity. The projected cost was 770 million Swedish kronor but instead totaled to 2.8 billion Swedish kronor. For many years, the Bãi Bằng paper mill was seen as problematic. In the long run, Bãi Bằng became a success. It is the largest paper mill in Vietnam, and after reaching operational capacity in 1996, one of the most successful paper mills in the country.
Best of Four (Album Review)
The compilation gets underway with "Everybody Everywhere" off All Around the World. It's a bouncy, uplifting melodic rock tune loaded with energy. The gang vocal melodies embedded in the chorus can't help but entice you into singing along. I imagine this one would be great in a live setting, shouting the chorus back to the band, fist raised high alongside a few hundred or thousand other fans. The only other inclusion from that album is "Raise Your Hands" down in the ninth slot.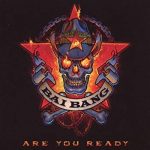 From Are You Ready, we get "Are You Ready, I'm Ready". This one features a little heavier thunder courtesy of the drumbeat and a little more of a grinding riff showing its teeth here and there. Another melodic rocker packed with that spirit raising sing-along feeling. Also from Are You Ready is "Only the Best Die Young" and "I Love the Things You Hate". As one who enjoys more brashness in my guitar riffing, the latter and album closer is a true standout for me.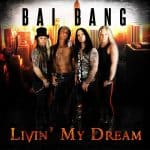 Livin' My Dream supplies the lion's share of cuts with four inclusions, "Rock It", "Livin' My Dream", "Tonight", and "Come On". For me, "Livin' My Dream" once again has that "heavier" feel to it yet still maintaining the singalong melodic mentality. And the lyrical content speaks to me as well. Personally, after several years of unhappiness and a lifetime of conformity, about seven years ago I decided that going forward I would live life on my terms! And that's exactly what I do. I live my dream, traveling the world to rock and roll events…and it's not gonna stop!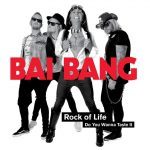 Rock of Life delivers "Hey Hey You" and "Stop Messin' Around". Both delicious little rockers with sing-along capabilities.
All in all, a great collection showcasing Bai Bang's more recent work…the only track I can do without is the ballad, but then again I hate ballads.
Bai Bang at Summer Festivals
I look forward to rocking with Bai Bang at the upcoming Call of the Wild Festival in Lincolnshire, UK. The event, taking place from May 24-26 features three days filled with multiple stages and over 70 bands! Check out the list of bands, several of which have had review features here on CGCM by The Meister! Here's his Call of the Wild coverage so far: Call of the Wild Festival.
Bai Bang will also make a journey over to Canada in July for the Hair in the Fair Festival by Rock the Roses in Welland, Ontario. And the band appears at Wacken Open Air in August as well.
Cheers,
The Meister
Find more of my album reviews here: Meister Music
CGCM Podcast / Meister on Facebook / Meister on Instagram / Meister on Twitter / Meister's Email
[embedyt] https://www.youtube.com/watch?v=v7CuAAAlCBY[/embedyt]