Since first hearing the album's lead-off track, "Get Out of My Tree", it's catchy hum along chorus will not leave my grey matter. The album arrived at the doorstep of CGCM Central and our staff writer and all-around good guy Trevor "Psychoone" McDougall jumped on an album review. Check it out here: Bexatron – Hey You (Album Review). Less than two weeks later Bexatron have hit Canadian soil and I was fortunate enough to catch their show at Toronto's Rivoli Club on July 5, 2019.
Who is BEXATRON?
Bexatron formed in 2015 in London, UK. Making up the band we find Belle Star (drums), Adam Adorjan (bass) and Greg Radcliffe (guitar) with self-described idol-esque Bexx fronting. Musically I have seen a ton of comparisons and influences named from Blondie, Rolling Stones, Sex Pistols, and Duran Duran. It's basically a whole grab bag of stuff including punk, glam, and power pop…and considering it's not something I would normally take to, I love it! It's got a high energy level that raises your spirits and makes you groove. 
BEXATRON – Rivoli Toronto (Concert Review)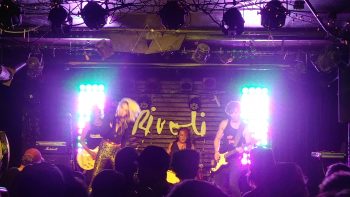 I arrived at Toronto's Rivoli about a half-hour early with doors scheduled for 9 pm. My reason for coming, Bexatron scheduled to hit the stage at 11 pm after a single opener in Kojak. Pulling up a stool at the bar in the regular area I grabbed a pint and waited for the Backroom to open. I quickly became pretty sure that Bex was sitting there too. I mean, the bar held only about 12 people, six presently occupying stools. Now I hear the accent, it's definitely her and prob another band member in a captain style hat and Union Jack tee. I think it was guitarist Greg Radcliffe. But time will tell. After a while, when the opportunity arose, I said "hi" and chatted for a few mins with Bex about Canada and the tour so far. Cool.
Inside the Backroom, I counted approx 25-30 people here so far. Which in Toronto for a band with little following is amazing! Unfortunately, I felt extremely old and out of place. Not my usual style of show I stick out like a sore thumb by my age, metal t-shirt, rings, bracelets, and tattoos!
Kojak set the stage as the crowd drifted forward. Clearly friends and followers, but the band had an energy and was decent. The slower numbers killed it for me as that's not my thing during a rock show at all. But when Kojak are groovin' they are really grooving. Second last song and the last Zappa cover song were fantastic!
Bexatron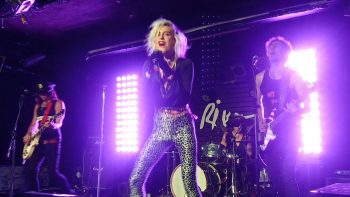 Bexatron slunk onto the stage amid dim lights and recorded intro. Leading out with "Take Me Back to Jo Jo's" the Brit-pop/punk/glam outfit delivered track after track off their debut release, Hey You. You can read Trevor McDougall's review on CGCMpodcast.com. Almost all selections from that debut record saw the light of day on stage tonight. Tracks like "Subway Freaks", "Get Out of My Tree" and "Hex The Ex" all had me singing along with the choruses as Bexatron hit Rivoli one after the other. I was surprised just how much of the lyrics I actually knew and I sang along with before I realized I even was!
The first single off Hey You reportedly (by the band on stage tonight) charted in Canada. Charted? What's that? Who listens to radio these days? Podcasts man, that's where it's at! Nevertheless "Dirty Disco" enticed more than just my old man hips into moving as several ladies danced away. Bexatron has that. That ability to dance to it appeal. My normal musical wheelhouse of anything glam-thrash rarely has dance-ability…neck soreness however it achieves in spades!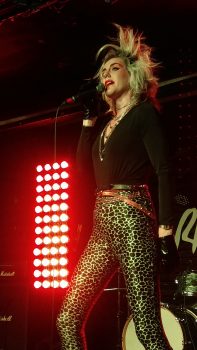 Inviting us to sing along as we "might know this one" (Hey! I know them all!), Bex launched Rivoli into "Gimme! Gimme! Gimme!" a rocking cover of the ABBA dance tune. From there it was into recently issued second single "I'm Trash". I identified the possibility for danger earlier but didn't really recognize it until now. Briefly prior in the set Bex's mic cord got tangled on a large cup hook protruding from the stage as she flailed around descending the steps a bit. Now it full-on snagged after she completed the stair length and spent a few seconds on the floor in front of the stage. As she was "tethered" on a short leash for a few seconds, two gentlemen crowd members came forward and sorted the cord out between the cup hook and a two-top table near stage front that added to the entanglement. Cheers, boys!
Slowing it down a bit now, usually painful for me, "Mandy Meltdown" features just enough sing-ability and punch to keep me in tune. I must also say at this juncture that it's quite evident here live, that guitarist Greg Radcliffe possesses guitar skills not showcased on the album. He delivered some blistering fretboard work right around this juncture. Next up we got hit with "New York Doll" followed by "Sex, Drugs and Sausage Rolls". During the latter, Greg Radcliffe facilitated the band intros and Bex then encouraged the crowd to get low. With hesitant resistance at first, it eventually happened. I may have even been the leader to start the movement. Unfortunately, my "old man" knees don't really enjoy this so I was forced to spring up and move to the side.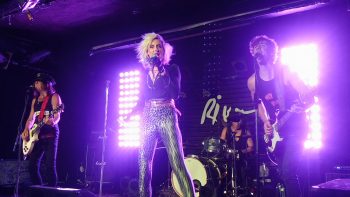 Laughing at the bass player Adam Adorjan's permagrin, it was nice to see the band enjoying themselves up there as well. They flew into the Sweet-made more famous by Krokus cover of "Ballroom Blitz" that saw a renewed dancing frenzy. Even old man reviewer got more into the mix shaking the hips! Wrapping up with "Co Co (I Should)" featuring Bex again on the floor in the crowd. Much to the surprise of at least two oblivious young ladies!
Bexatron (Final Thoughts)
In conclusion, Bexatron live is amazing and I had such a great time tonight. I liked the record, even though it's not my norm. A little heavier as is often the case live, but the real key was Bex. Her stage presence has a way of simply capturing you. And it was electric tonight at the Rivoli in Toronto.
After the set, I made my way quickly to the exit with desires on at least the attempt of 4hrs sleep. A brief chat with Tom Palloway from Voltage Artist Management led to a few parting words with bassist Adam Adorjan. Great night in general, thanks Tom and Bexatron!
Buy Music AMAZON.CA / AMAZON.COM
Cheers,
The Meister
Find more of my album reviews here: Meister Music
CGCM Podcast / Meister on Facebook / Meister on Instagram / Meister on Twitter / Meister's Email