Press Release (with slight edits):
Swedish hard rockers Bonafide release their first live album Live at KB on March 15th
One of Sweden's hardest working bands, with six studio albums and countless tours under their collective belts, start off 2019 with the release of their first live album. Live at KB will be released on vinyl and CD on March 15th, 2019. And can be pre-ordered from the band's website below.
The album recorded on February 17th 2018, at Sweden's best live rock club, KB in Malmö. The town where the band originally formed back in 2007. (For reference, Slayer and Megadeth are not the only major bands that have played a club show here on a day off on a festival tour…)
The result of one year's worth of shows all over Europe, after having released its sixth studio album Flames (in the spring of 2017) is a well-oiled rock'n'roll machine in a very solid performance. At the same time tightly focused and spontaneous, with a good variety of tracks from the band's entire career.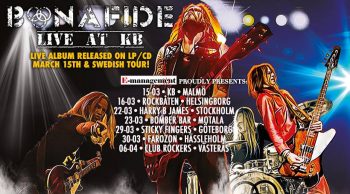 No overdubs, no editing, no nothing – just pure joy!
Mixed and mastered by Staffan Österlind. The pre-orders of Live at KB will ship two weeks ahead of the official release date. And the album will then also be available for purchase on the bands' Swedish spring tour.
Track list: Side A – "Dirt Bound" / "Hold Down The Fort" / "Hard Living Man" / "Bottle Of Jack" / "Rag And Bone Man"
Side B – "Peg Legged Pete" / "Hard Case To Break" / "No Doubt About It" / "Fill Your Head With Rock"
Bonus tracks for CD version: – "Backroom Entertainment" / "Power Down" / "Butter You Up" / "Night Time"
BUY: Pre-Order on Website / More Bonafide Releases on Amazon.com
[embedyt] https://www.youtube.com/watch?v=XBlxSwMkzEQ[/embedyt]