Once again the first band of the day proves how Sweden Rock should be started! They again, like The Wild! yesterday, hold the "Best Band of the Day" title! I present Burning Witches, a quintet of ladies hailing from Switzerland. Springing to life (or wisping out of a cauldron perhaps), Burning Witches started out in 2015. These "witches" specialize in true Heavy Metal/Speed Metal and the coven already possesses two albums in the catalogue. The debut in 2017, Burning Witches, followed by 2018's blistering sophomore effort, Hexenhammer. This was one of my highly anticipated sets for Burning Witches – Sweden Rock 2019!
This gig, unless I'm mistaken, was the first to feature brand new witch vocalist, Laura. And, to be honest, I was completely unaware that Seriana departed the coven until I saw Burning Witches on stage this day. Well, I recognized that it wasn't her on stage and suspected I'd missed something which I confirmed later via the band's Facebook post. No matter, Laura (and the whole band for that matter) kicked some serious ass on stage this morning! While Seriana delivered vocals for two stellar releases, Laura could not possibly have been a better fit on stage! Check out the video below of their brand new song "Wings of Steel" featuring Laura! Also, I've included a YouTube video of the entire Sweden Rock Burning Witches set, so you can live it right along with those of us that were there!
BURNING WITCHES – Sweden Rock 2019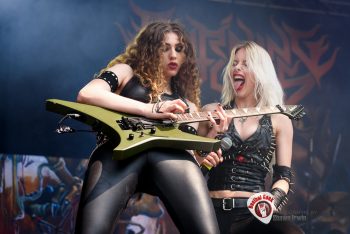 Leading out with Hexenhammer's recorded intro "The Witch Circle", as the ladies took position on stage, things quickly exploded into "Executed". While the audio in the live video is a bit "muted", it's decent and just listen to Laura's wailing screams. Awesomely chilling! Guitarists Romana and Sonia simply blister as bassist Jay and Lala (drums) drive the songs forward with command and conviction. These ladies came to slay and don't let off the headbanging gas for 45 minutes or so with the uplifting "We Eat Your Children" following "Metal Demons". My favourite "Hexenhammer" sits next trailed with "Bloody Rose". You can hear "Hexenhammer" in the CGCM Podcast EP#65-Riot Radio Vol.3 (Meister)-SRF 2019 linked below as I feature my top acts from Sweden Rock 2019.
We also got originals "Black Widow", "Open Your Mind", and their namesake "Burning Witches" to comprise eight of the ten song set. I, at first, found it mildly disappointing that Burning Witches chose to include not just one, but two cover songs for Sweden Rock 2019. Now, it makes much more sense discovering that Laura only inducted into the circle a few days prior. Perhaps, and completely understandable, she did not have the original's lyrics sorted as yet. Classic covers "Jawbreaker" (Judas Priest) and "Holy Diver" (Dio), however, were well executed going down quite well overall.
Burning Witches engaged many new fans, I suspect, including photographer Shawn Irwin. They indeed solidified my fanship with a wicked show and again the first band of the day = best band of the day! Thanks, Witches, until we meet again!
BUY: Burning Witches – Amazon.ca / Amazon.com
Cheers,
The Meister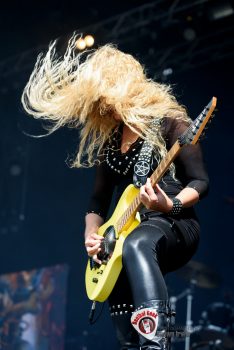 Find more of my album reviews here: Meister Music
CGCM Podcast / Meister on Facebook / Meister on Instagram / Meister on Twitter / Meister's Email
Shawn's Photo Gallery of Burning Witches at Sweden Rock 2019
***A special thanks to Shawn Irwin for the use of his photos for this post and gallery!***
Check out all of Shawn's galleries from Wednesday, June 5, at Sweden Rock 2019: DEMON / DYNAZTY / GATHERING OF KINGS / JAMES HOLKWORTH / JOE LYNN TURNER / OZ / SKID ROW
Check out all of Shawn's galleries from Thursday, June 6, at Sweden Rock 2019: A.C.T / AMON AMARTH / BLAZE BAYLEY / DEADLAND RITUAL / DEF LEPPARD / KROKUS / POWERWOLF / SEVENTH WONDER / SLAYER / TENACIOUS D / THE WILD!
Check out all of Shawn's galleries from Friday, June 7, at Sweden Rock 2019: AXEL RUDI PELL / BURNING WITCHES
And see all of the CGCM/Decibel Geek Sweden Rock 2019 coverage through this link: Sweden Rock 2019
[gmedia id=40]
Burning Witches on CGCM Podcast
Burning Witches Videos
[embedyt] https://www.youtube.com/watch?v=Jr0hcJw8km8[/embedyt]
[embedyt] https://www.youtube.com/watch?v=CpPT1TLiRPU[/embedyt]