The first time I heard Danko Jones "Bounce" I was overtaken. His sound was so different, so fresh. It had a funk to it but was also balls-out hard rock. The song used to play on the radio in the kitchen at work or in my car while I was delivering pizzas thanks to the only radio station I would consent to listen to at the time, 97.7HTZ FM. I steadily collected the recorded works and continued in that going forward. While I love "most" of Danko's work, I do have a strong affiliation to the earlier product especially the Born A Lion album. The Danko Jones logo appears in my full sleeve tattoo as a proof to my dedication to Toronto's own.
Born in 1996 in Toronto, the band started out as Danko Jones (vocals/guitar) and John "JC" Calabrese (bass). Over the course, there have been several occupants of the drum stool. Since 2013, we find Rich Knox behind the kit. 1998 saw the self-titled EP's issue followed by the My Love is Bold EP the next year. Debut full length, Born a Lion dropped in 2002, We Sweat Blood (2003), Sleep Is the Enemy (2006), Never Too Loud (2008), Below the Belt (2010), Rock and Roll Is Black and Blue (2012), Fire Music (2015), Wild Cat (2017), and newest slab of wax, A Rock Supreme (2019). The band toured extensively in Canada and Europe, performing many large festivals amassing a large following. The main man, Danko Jones also hosts his own podcast, writes columns for several magazines and does spoken word tours.
DANKO JONES – Sweden Rock 2019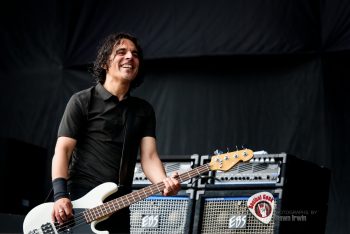 Here at Sweden Rock 2019, my theory is again proven on this last day. The first band of the day is the best band. While Danko's stage time was not quite the first musical output of the day, he was my first. This show marks the second of a total of three times I will witness Danko Jones this year. Recently at a small club show at Toronto's Horseshoe Tavern for Canadian Music Week, ("Close the fucking door!"). Those that were there, know. Here at Sweden Rock and later in October aboard the MegaCruise! That's a whole bunch of Danko for me and that's a-ok!
They ran through a solid no-nonsense set packed with material from all eras of Danko Jones. Some real highlights for me included some older material with "Lovercall", "First Date", "I Think Bad Thoughts", and "Full of Regret". Mixed in, Danko hit Sweden Rock with a whole host of selections off the latest release, A Rock Supreme. At this point in the year, I can confidently say that this album will place in my top ten best of 2019. It's going to take a huge movement to knock it out at this juncture. "Dance, Dance, Dance", "Lipstick City", "I'm In a Band", "Fists Up High" and "Burn In Hell" were all featured.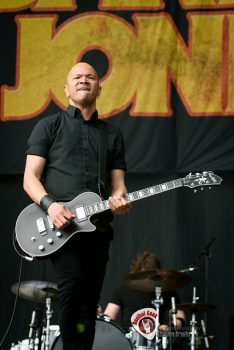 As is his trademark, Danko's humourous ranting monologues peppered themselves throughout the show. A great entertainer and a wicked rock show to get the day going at Sweden Rock 2019! Thanks, Danko and see you on MegaCruise!
BUY: Danko Jones – Amazon.ca / Amazon.com
Cheers,
The Meister
Find more of my album reviews here: Meister Music
CGCM Podcast / Meister on Facebook / Meister on Instagram / Meister on Twitter / Meister's Email
Shawn's Photo Gallery of DANKO JONES
***A special thanks to Shawn Irwin for the use of his photos for this post and gallery!***
Check out all of Shawn's galleries from Wednesday, June 5, at Sweden Rock 2019: DEMON / DYNAZTY / GATHERING OF KINGS / JAMES HOLKWORTH / JOE LYNN TURNER / OZ / SKID ROW
Check out all of Shawn's galleries from Thursday, June 6, at Sweden Rock 2019: A.C.T / AMON AMARTH / ARCH ENEMY / BLAZE BAYLEY / DEADLAND RITUAL / DEF LEPPARD / KROKUS / POWERWOLF / SEVENTH WONDER / SLAYER / TENACIOUS D / THE WILD!
Check out all of Shawn's galleries from Friday, June 7, at Sweden Rock 2019: AXEL RUDI PELL / BURNING WITCHES / DISTURBED / MAGNUM / NIGHT FLIGHT ORCHESTRA / THE QUILL / WITCHFYNDE / ULI JON ROTH / ZZ TOP
Check out all of Shawn's galleries from Saturday, June 8, at Sweden Rock 2019: BEAST IN BLACK / GREEN JELLŸ / DEMONS & WIZARDS / DANKO JONES
And see all of the CGCM/Decibel Geek Sweden Rock 2019 coverage through this link: Sweden Rock 2019
DANKO JONES featured on CGCM Podcast EP#65