Comics and metal like peas and pods? How can you go wrong with a combination like that? When I was but a young lad, I was, of course, a comic book fanatic. These days I like some of the feature films and a couple of the TV shows. But mostly I'm out of touch with the universe. What I am up to speed on is great Hard Rock and Heavy Metal (personal tastes, of course). And who is up to speed on their comic book universe is Spanish band Frenzy. They also have unleashed a great hidden gem of an album. Here's my thoughts on FRENZY – Blind Justice.
FRENZY – Blind Justice surfaced on February 4, 2019. The band itself formed in 2015 and released an EP, Lethal Protector in 2016. Although from Madrid, they are fronted by US-born singer Anthony Stephen. Alongside Stephen, we find Angel Muñoz "Choco" (Bass), Víctor Díaz (Guitars), Luis Pinedo (Guitars), and David Ontanaya (Drums) completing the Frenzy roster. Described in the PR as a "Heavy Metal and Comic lunatics band", featuring "lyrics focused on comic books and graphic novels such as Daredevil, From Hell, The Killing Joke, Silver Surfer, X-Men…"
FRENZY – Blind Justice (Album Review)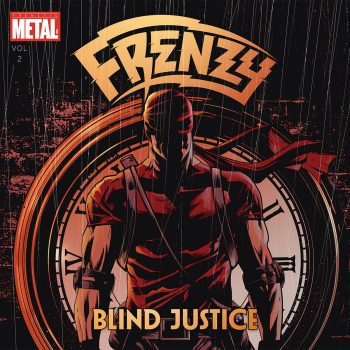 The title track, "Blind Justice" gets things underway in fine traditional metal-styled fashion. A great intro to the band featuring soaring vocals and tons of delicious guitar work. From there we dive into "From Hell", a well-composed ripper with a catchy chorus.
But for me, the clear standout "go to" track is "Killing with a Smile". From the first listen of this blood pumper, it had me hard in its clutches. I love the high register vocals and the chugging riffs throughout.
You can watch the official video below for "Save Me". It has a little more radio-friendly commercial flare to it, but in no way diminishes or loses the statements Frenzy are making. The chorus is a little more sing-along, but the screeching vocals and riffing guitars peppered with song fitting solos are all still in the forefront.
The rest of the album plays well in my ears and it's been getting a ton of airtime during my bus to work commutes since I found it over a month ago. This sucker is loaded with Traditional Metal, Hard Rock influenced, 80's styled, guitar loaded tracks that are sure to create massive earworms.
BUY: FRENZY – Blind Justice on Amazon.com
OFFICIAL WEBSITE (Bandcamp) / FACEBOOK
Cheers,
The Meister
CGCM Podcast / Meister on Facebook / Meister on Instagram / Meister on Twitter / Meister's Email
[embedyt] https://www.youtube.com/watch?v=tIz1ieO5SCc[/embedyt]