Gathering of Kings issued their debut album, First Mission, earlier this year. It's not so much of a regular band, more of a supergroup. A huge supergroup, in fact. As the brainchild of Ron Dahlgren, Gathering of Kings (also monikered as GOK) is a collection of talented musicians from the Swedish Hard Rock scene. Featuring members of Pretty Maids, Crashdiet, Masterplan, Saffire, Therion, and Night Flight Orchestra the roster is a veritable who's who of Swedish music.  A second follow-up album is currently in the works and looking at an early 2020 release.
GATHERING OF KINGS – Sweden Rock 2019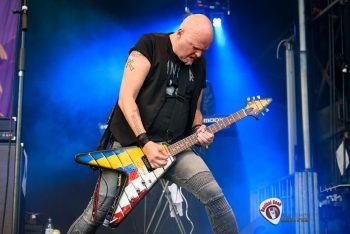 We reported to the 4 Sound Stage promptly by 19:45 for this hour long and highly anticipated set. Initially, we hung back a little to enjoy the full experience of the crowd. But soon worked our way to within a few rows from the barrier in front of my buddy Chris Laney. This was the first ever live performance for Gathering of Kings and it went off famously! With a multitude of vocalists, as on the album, GOK ran through an eleven song set. All songs were from the First Mission debut except a new one titled "Heaven on the Run" and it was a barn-burning rocker too!
The whole set was also recorded for a forthcoming live album and DVD release. If you've not yet listened to Gathering of Kings – First Mission, I highly recommend you do so as this album is sure to place in a few best of the year lists for 2019!
***A special thanks to Shawn Irwin for the use of his photos for this post and gallery!***
Cheers,
The Meister
Find more of my album reviews here: Meister Music
CGCM Podcast / Meister on Facebook / Meister on Instagram / Meister on Twitter / Meister's Email