Sometimes it's good to try new things. Get out of your comfort zone. I did just that at Sweden Rock 2019. All hell-bent for leather on seeing Saxon on Saturday, June 8, 2019, at the festival, that plan dissipated surprisingly easy. It was suggested to me that "you've seen Saxon many times". Indeed I have, in fact just recently on Monsters of Rock Cruise. "And you'll see them again". Most probably, I will, yes. "But you've never seen Green Jellÿ, so why don't you try it a few songs and then go to Saxon if you don't like it?" Fair enough, let's give it a shot. Holy crap! What a beautiful disaster. GREEN JELLŸ – Sweden Rock 2019.
Being a "comedy metal" band, I'm not sure to the truth of some of what I'm about to write, but here's some info I found. Formed by Bill Manspeaker way back in the early '80s, he is Green Jellÿ's only consistent member. Tenure in the band now breaches the "hundreds", over 800 according to the group's Facebook. And there's some more stats found on the Facebook page as well. A trademark infringement with Kraft Foods, the owners of Jell-O saw a name change from Green Jello to Green Jellÿ. The Kellogg Company, makers of breakfast cereals, took issue with the band's depiction of Toucan Sam killing other cereal characters as well.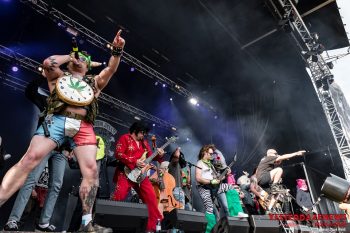 I remember Green Jellÿ and the claymation video for "Three Little Pigs" from back in the '90s. I bought the album, but recall not "getting most of it". Then I tried purchasing the next album, 333, and loved the song "Carnage Rules". Great two songs on two albums. Green Jellÿ sucks. So says their website etc as well!
Green Jellÿ – Sweden Rock 2019
Beginning the show, actually, prior to the show, a guy in a black t-shirt with "security" printed on it paced the stage. He had a microphone and spoke things such as "This is the worst band of the festival" for maybe 5 or 10 minutes. He was quite funny with his band insulting monologue and must be associated with them. Then he announced the proper announcer who walked on for an extremely underwhelming 30 second "And here's Green Jellÿ intro". Yes, the "security" guy was indeed Bill Manspeaker. He continued bashing his band, chanting "Green Jellÿ sucks!" as the stage literally flooded with around 20 people wearing costumes and assumably rubber heads. Watch the video below because seeing is believing!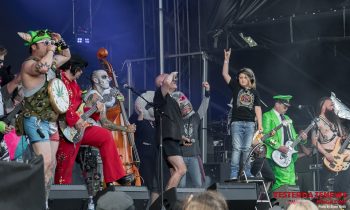 Green Jellÿ started out with "Three Little Pigs", their only good song Manspeaker declared afterward. What followed was perhaps the worst concert I have witnessed, yet strangely also one of the best. As gigs go, it was awful. As entertainment and laughs at the sheer spectacle of what was going on, it was awesome! Like a train wreck that you just can't tear your eyes away from! The setlist featured "Obey the Cowgod", "Electric Harley House (Of Love)", "Anarchy in Bedrock", and more. The show included forcing the Cowgod to crowd surf, and many other antics loaded with lots of self-deprecating humour. At one point Manspeaker also picked a youngster out of the crowd and had them on stage.
Green Jellÿ – Sweden Rock 2019
I literally couldn't tear myself away! A post I saw later on Facebook summed it up perfectly. It was from Sweden Rock's Martin Forssman, stating a text he received from a colleague. "Green Jellÿ… I don't know if it's a gig or just someone who got hold of a microphone". Watch the video below of the beginning intro and "Three Little Pigs" for a short window in the madness.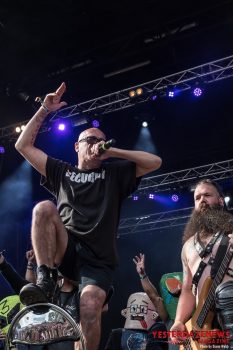 BUY: Green Jellÿ – Amazon.ca / Amazon.com
Cheers,
The Meister
Find more of my album reviews here: Meister Music
CGCM Podcast / Meister on Facebook / Meister on Instagram / Meister on Twitter / Meister's Email
And see all of the CGCM/Decibel Geek Sweden Rock 2019 coverage through this link: Sweden Rock 2019
Diane's Photo Gallery of Green Jellÿ
***A special thanks to Diane Webb for the use of her photos for this post and gallery!***
Photos by © Diane Webb – All Rights Reserved. YesterdazeNews Photography
www.yesterdazenewsphotography.com
www.facebook.com/YesterdazeNewsPhotography