Ottawa's classic thrashers INFRARED issued their EP Back To The Warehouse on June 14, 2019. Comprised of older material, the EP comes ahead of the next full-length, planned for a 2020 release. The band states: "They are the last of the old songs that we felt should see the light of day. Our upcoming EP is 5 songs. 4 originals and one cover of an Iron Maiden song. We hope that fans will appreciate the old school thrash metal feel of the release. We feel they are strong songs with interesting twists."

Back in 1985 Infrared formed as a high school band. They issued an EP, R.I.P. (1988), and then after a whopping 27-year break two full-length studio recordings, No Peace (2016), and Saviours (2018). It strikes me that I've possibly seen Infrared live during one of my forays to Ottawa…probably with other Ottawa thrashers Shock. But I can't quite recall the incident. In any case, apparently, I will get another shot as Infrared are on the bill, setting the stage for Battle Beast at Mavericks on September 17, 2019!
INFRARED – Back to the Warehouse (EP Review)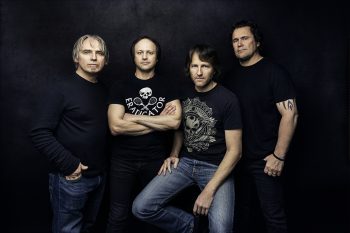 The five-song EP titled Back to the Warehouse dropped independently on June 14, 2019. Starting off, the first audio sound reaching the ears is that of a fart. Well, at least it sounds like that's what it is. Followed by some giggling also eludes to the origin of the sound. Reminds me of when CGCM Podcast created the genre of Fart Metal! From there, the pounding and thunderous riffs of this Ottawa area thrash metal band never subside.
"Meet My Standards" leads the charge built on a volcanic bassline underlying the riffage. The breakdown hitting the chorus is a real grinder. This is old school melodic thrash at its headbanging best! I know what's coming along to my next gym workout session! Next up is "One Mouth Two Faces". A long thrashing lead in sees the vocals beginning at better than a minute in. And when they do Armin Kamal spits venom lyrically and vocally. Again, thundering bass (Mike Forbes)and chugging riffs (Kamal/Kirk Gidley) are the backbone. Launching "Hate Today Despise Tomorrow", Alain Groulx's drumbeats volcanically drive the composition.
The longest track, "Animated Realities", at a little over 6 minutes continues assaulting the eardrums and stretching the neck. It really opens up a minute or so in and rips along in classic Thrash fashion. Closing off the EP is a glorious cover of Iron Maiden's "Wrathchild".
This is definitely a must for fans of old school Melodic Thrash Metal. It's loaded with thick beefy riffs to satisfy the real neck-breaking enthusiasts, yet enough melody alongside to please the
Cheers,
The Meister
Find more of my album reviews here: Meister Music
CGCM Podcast / Meister on Facebook / Meister on Instagram / Meister on Twitter / Meister's Email
[embedyt] https://www.youtube.com/watch?v=hDQGFmn6CdU[/embedyt]