Switzerland's legendary hard-rock band KROKUS are embarking on their farewell tours. After over 40 years, 18 studio releases and numerous roster configurations, the end is near. The band is among my earliest Hard Rock and Metal listens, finding them on a compilation cassette called White Hot – An All Out Metal Assault. This cassette has been discussed previously on the CGCM Podcast and introduced me to bands such as Krokus, Y&T, Fist, Kick Axe, Fastway, Autograph and more. The song "Midnite Maniac" from Krokus appeared on this cassette and served as my intro to the band. It was indeed Krokus who was a major deciding force in my attending my very first Sweden Rock Festival back in 2013 as a band I never expected to see perform live. The band's logo is also a part of my full sleeve tattoo!
KROKUS – Sweden Rock 2019
Having now witnessed them several times including two shows in their home country as part of the Swiss Monsters of Rock Tour, I can honestly say Krokus disappoint me more and more each time. I mean, don't get me wrong, they sound great live. I think Storace's vocals have stood the test of time very, very well. His throaty rasp still sounds amazing to my ears. Whether or not Krokus employ any backing tracks, I cannot say.
It's the setlist choices that disappoint me. Of course with a back catalogue such as Krokus', there will never be a setlist or every fan's favourite songs in the show. But for some unknown and unGodly reason, Krokus tend to ignore much of their original compositions. Here there was not even "Eat the Rich" or "Screaming in the Night" making appearances. Sets are marred with "played to death by 10,000 bands" cover songs such as "American Woman" and "Keep On Rockin' In the Free World". Even two more cover snippets appeared in lengthy versions of their original songs in this SRF 2019 setlist!
For the love of rock and roll, Krokus, please tell me why you are so damn afraid to play your own material?
***A special thanks to Shawn Irwin for the use of his photos for this post and gallery!***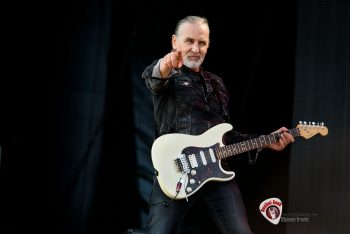 BUY: KROKUS albums
Cheers,
The Meister
Find more of my album reviews here: Meister Music
CGCM Podcast / Meister on Facebook / Meister on Instagram / Meister on Twitter / Meister's Email
Shawn's Gallery of Krokus – Sweden Rock
Check out all of Shawn's galleries from Wednesday, June 5, at Sweden Rock 2019: DEMON / DYNAZTY / GATHERING OF KINGS / JAMES HOLKWORTH / JOE LYNN TURNER / OZ / SKID ROW
Check out all of Shawn's galleries from Thursday, June 6, at Sweden Rock 2019: A.C.T / AMON AMARTH / BLAZE BAYLEY / DEADLAND RITUAL / DEF LEPPARD / KROKUS
And see all of the CGCM/Decibel Geek Sweden Rock 2019 coverage through this link: Sweden Rock 2019