Straight Outta Hell! I know I am probably the wrong person to be reviewing the brand new album L.A. Guns – The Devil You Know. Some might say I am too much of a fanboy to objectively review one of their albums. To those people I have two things to say; you're absolutely right and Piss Off! I am writing it anyway!
Something wicked this way comes and it's titled The Devil You Know. The Kings Of Sleaze are back and have officially reclaimed their thrones. The hatchet was buried between Phil (Lewis) and Tracii (Guns) with the release of 2017's The Missing Peace. Now it seems they dug that hatchet up only to swing it wildly at the naysayers and haters. As a result, this record absolutely smokes!
First, let me agree with many that the production on the new record is a little less polished as their last record. That in itself isn't really a bad thing though. This is sleaze rock, it should be a little dirty and rough around the edges.
Second, I will also say that it took me 4 solid listens before the devil got its hooks into me. It was then that I figured it out. The reunion of Phil and Tracii has now delivered two albums but they were released in reverse sequence compared to the first two L.A. Guns records. Let me explain. The Missing Peace was polished and lavishly produced. Don't get me wrong, it kicked ass and I loved it, but I compare it to 1989's Cocked and Loaded. Whereas The Devil You Know takes me right back to the self-titled 1988 debut in all its pissed off, sleazy glory.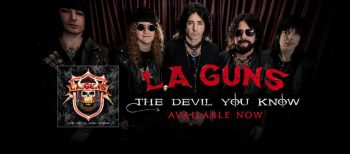 "Rage", the opening track tells you everything you need to know about this album. From Tracii's snotty little intro riff to Phil's opening line of "Don't give me no bullshit baby!" the tone of this album is on motherfuckers. The Devil You Know is eleven tracks using the following ratio; 10 balls out, kick-ass rockers to 1 moody little power ballad. A ratio that even the Meister himself might find acceptable.
There is absolutely no reason to skip any of these tracks but the standouts include the aforementioned "Rage", "Stay Away", "Loaded Bomb", "Going High" and my personal favourite "Needle To The Bone"! The more I live with this record, the happier I am to have this powerhouse band back with a vengeance. It seems to me that parts of the previous record possibly suffered from overthinking, while this record is just a relentless punch in the face!
There is simply something magical that happens when Phil's unique vocal tones soar beautifully over Tracii's unmistakable riffs and solos. Together they are far more than the sum of their parts and I declare now that The Devil You Know may just be superior their previous release. Consequently, I can't wait to see this tour!