Sequels are exciting, especially if you hold the original in high regard. But sequels can also often be disappointing compared to the original. The biggest exception to that is, of course, the film Star Wars: The Empire Strikes Back. In 2017 I discovered (thanks to a promo company) a band called LICENCE and their Licence 2 Rock debut album. You can read my review on that release posted on the Decibel Geek website here: LICENCE – Licence 2 Rock (Album Review). Now the band has returned with LICENCE – Never 2 Old 2 Rock which releases on August 08, 2019. And I'm happy to report that it's an Empires Strikes Back sequel!
LICENCE – Brief History
Forming back in 2014 and based out of Ludwigsburg, Germany, Licence creator Steam Thiess is somewhat of a local guitar hero. Alongside him in the band are the same members from two years ago's release. His daughter Jacky as the vocalist, bassist Pappe, and drummer Sammy Sin rounding out the quartet. Again mixed and mastered by Achim Köhler, known for his work with Primal Fear, Brainstorm and many others, this sophomore album was recorded and produced in the band's own Steamrock Studio.
LICENCE- Never 2 Old 2 Rock (Album Review)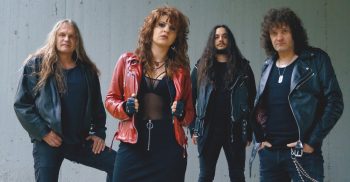 The thirteen composition collection leads out with "Line of Fire". And it's a blast of high energy. Kinda like when you were a younger Canadian kid back in the '80s and you drank a Jolt Cola. Was that stuff even available in other countries? In any case, similar to today's Red Bull I guess, slamming back a can of that stuff could easily raise you into the stratosphere with a light-headed, walking on air buzzy feeling.
At thirteen tracks in length, there's no shortage of rocking contained here. Tracks like "Hell Freeze Over" awaken the senses with infectious lead in riffing. "Turn Around" simply opens with a thunder and never lets up. A little bluesy swagger creeps in on "N.2O.2.R" before the riffs explode once again. The band's cover of the Pat Benatar classic "Hit Me with Your Best Shot" heavies up the original nicely. And there's so much more still…
Jacky still has that "been up all night before recording, drinking whiskey and devouring packs of smokes by the truckload" vocal quality that flows perfectly over Theiss' guitar work. Great stuff all around!
LICENCE – Never 2 Old 2 Rock (Final Thoughts)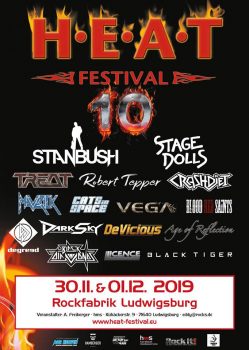 While still fantastically loaded with beefy, chugging riffs throughout, it doesn't have that "instant" appeal that the debut had. It is, however, a more cohesive and steady across the board album. The compositions seem a little more mature as Licence comes into its own. I find that Never 2 Old 2 Rock is more of a "grower than a shower", but is every bit as good, maybe stronger than its predecessor. The debut made my "Best of the Year in 2017" and I'd be surprised if this sequel doesn't place in the same category once December/January rolls around!
Catch LICENCE at the H.E.A.T Festival in Ludwigsburg, Germany November 30-December 01, 2019. I personally attended this festival event last year and it was an amazing event with top-notch organization. The landlord of the club that hosts it has not renewed the lease and so after the 2019 H.E.A.T Festival, this historic German Rock Club may be gone! Sign the petition to the landlords here: Rockfabrik Faces Closure
LICENCE – Licence 2 Rock (Album Review)
BUY: Amazon.com
Cheers,
The Meister
Find more of my album reviews here: Meister Music
CGCM Podcast / Meister on Facebook / Meister on Instagram / Meister on Twitter / Meister's Email
[embedyt] https://www.youtube.com/watch?v=9mF5958BCgs[/embedyt]