So, one of my favourite things about attending a new festival is fresh discoveries. I pity those so-called music fans who refuse to give the time of day to a new and as yet unbeknownst to them band. It's a rampant plague, but that's a rant for another day and forum. Months ago I signed on to attend the Call of the Wild Festival in Lincolnshire, UK. This first-year event features three days and three stages absolutely jam-packed with rock acts. Many of these are new and as yet undiscovered by me. This is a very exciting prospect and I'm starting to dive into the unknown. So, with the upcoming issue of their latest single, what better time to tell the CGCM readers about a band called Razorbats. Watch April 19, 2019, for RAZORBATS – "The City".
Razorbats hail from Oslo, Norway and with classic rock riffs and singalong choruses quickly established themselves as underground heroes in the world of hard rock and powerpop. At least so states the PR sheet accompanying the promo. Comprised of Paul Erik Vercouteren: Vocals, Kjetil F. Wevling: Guitar, Asle Tangen: Guitar, Martin Hervig: Bass, Torris Ilievski: Drums, Razorbats drew attention with their single "Born in Blood" in 2014. The debut full-length album Camp Rock followed in 2015 and II in 2018.
RAZORBATS – "The City"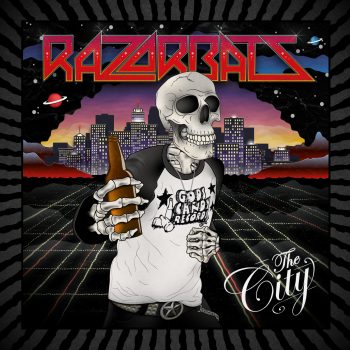 The single "The City" officially drops on April 19 with "Summer of Head" on the B-side.
Immediately the opening bass riff had my attention. It's the kind of thump that makes you sit up and take notice. The kind you feel vibrating down in your intestines. It almost says "Hi, how ya doin'". Layer in the guitar riff and I'm sold. From there "The City" evolves into a delightful power punk anthem. Not my usual flare of style, but goddammit it's catchy as hell! And unless I miss my guess the lyrical content concerns hangovers, something which I, of course, know nothing about…lol.
The B-side is "Summer of Head" and showcases a similar riff-oriented power pop, punkish flavoured tune. Again lyrical content that many of us may know all too well…I hope 2019 will be such a summer…lol. Great fun these two tracks are and an awesome intro to Razorbats!
Join me at Call of the Wild Festival in Lincolnshire, UK May 24-26 and see Razorbats killing it live on the Thursday night! Plus you can buy me a beer and we can visit Cloven Hoof Rum's booth together…cool? Call of the Wild Festival
BUY: AMAZON.com
Cheers,
The Meister
Find more of my album reviews here: Meister Music
CGCM Podcast / Meister on Facebook / Meister on Instagram / Meister on Twitter / Meister's Email