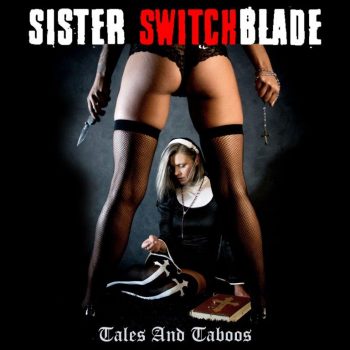 A ways back now, in August 2017, I received a surprise package in the mailbox. It was a promo CD sent for review…and it was awesome! I speak of the debut album Best Served Cold from Australia's Sister Switchblade. The band arose from the ashes of vocalist Andy Smith's former outfit, BabyJane. A great album filled with Hard Rock Sleazers, it still sees rotation in my playlists two years later (save the damn ballads). In fact, prior to receiving this Tales and Taboos sophomore effort, I spun my fave track "Back To Babylon" on CGCM Podcast EP#69-Riot Radio Vol. 5! Perhaps most impressive is that on Best Served Cold, the internet told me Andy Smith performed not only all vocals but the bulk of the instrumentation too! Save for drums on two songs and most of the guitar solos, Smith does it all. Let's see what we have here in sophomore effort, SISTER SWITCHBLADE – Tales and Taboos!
SISTER SWITCHBLADE – Tales and Taboos
Well, I really am an obstinate bitch sometimes. I hate ballads and almost as much as ballads, I hate intros. Especially ones that don't fit or meld with the first song. Sorry to say, but I find that's the case here. This 1:17 minute waste of time feels like it belongs on a whole other album! But from there Sister Switchblade – Tales and Taboos opens wide. Opener (intro crap aside) "Jezebel" is a sleaze feast bigger than my eyes at an all-day breakfast buffet! A shout-along chorus and some wickedly psyche-embedding riffage, this song is a champ.
The sleaze fest pounds through "Ain't Your Valentine" and "Hard Line" ahead of "Oh Tiana". "Oh Tiana" has a heavy "Cold Gin" feel to it. Hey, I'm a huge KISS fan and not a musician, but while not perfect, it certainly has the "spirit" of "Cold Gin" in the riff here. No big deal (just don't let Gene and Paul hear it). If you ask me, things have to repeat eventually and this is not a blatant rip-off, just a very "close similarity" to my untrained ear.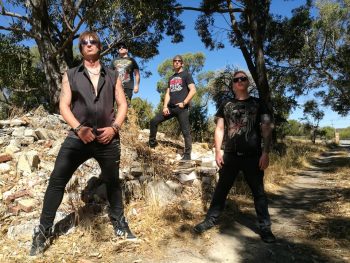 "Love Kinda Rusty" has that "I have to air drum" feel to it. Similar buzz to "Back To Babylon" from the first record and therefore, by air drum choice, my top pick. Although Track #9 "Bad Little Bitch" also had my arms flailing around!
The entirety of Tales and Taboos fares well overall, the kind of sleaze that makes you want a shower after. Perhaps something from this will also find it's way into an upcoming podcast!
So, either the internet was incorrect last time (shocker), or Andy Smith brought in some friends this time. Vocals/guitar – Andy Smith, lead guitar – Dylan Gallant, bass/vocals – Simon Brown, and drums/vocals – Adam Bannister
SISTER SWITCHBLADE – Best Served Cold (Album Review)
BUY: Amazon.com (Best Served Cold)
Cheers,
The Meister
Find more of my album reviews here: Meister Music
CGCM Podcast / Meister on Facebook / Meister on Instagram / Meister on Twitter / Meister's Email