Coming across young Swedish Thrash Band, The Generations Army by way of recommendation from a friend, I was impressed. I reviewed their Voices and Visions (EP) and marked them on my "Do Not Miss" section for Sweden Rock 2019. Hailing from Höör/Ludvigsborg, Sweden, The Generations Army began in 2014. Billing themselves as a new generation of Thrash metal from southern Sweden The Generations Army houses in its ranks: Elvin Landaeus Csizmadia (Rythm Guitar, Lead Vocals), Ragnar Östberg (Lead Guitar, Background Vocals), Erland Östberg (Bass, Background Vocals), Calle Frogner Moberg (Drums). Their debut album Still Screaming released in 2017, followed by the EP Voices and Visions in 2018 with a new album scheduled for 2019. And now I can cross THE GENERATIONS ARMY – Sweden Rock 2019 off my concert list!
THE GENERATIONS ARMY – Sweden Rock 2019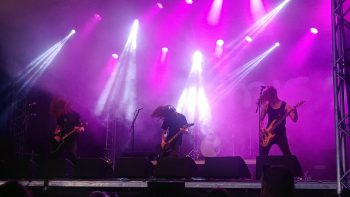 At 15:10 on Thursday, June 6, 2019, I reported to the Rockklassiker Stage. Bathed in a purple haze (no relation to the classic song, just a description of the stage lights!), The Generations Army began the assault. They led out with "Exhale", the first track from the Voices and Visions (EP). From there we were treated to 40 minutes of neck breakers ending with "World Cop" from the debut album. A sizeable crowd drew as the guys whipped hair around, banging heads and serving up the riffs. Quite plainly, old school Metallica has taught these youth well. And that's fine by me!
A truly fantastic set, this was definitely in my top five gigs of Sweden Rock 2019! The entire performance was filmed for a full-length upcoming live video from Sweden Rock…details to follow soon. Now, I still need to track down and add their debut album, Still Screaming to my collection. Like an idiot, after the set, while they were selling merch off to the side of the stage, I became entranced in chatting with some friends and failed to shop.
THE GENERATIONS ARMY – Voices and Visions (EP Review)
Cheers,
The Meister
Find more of my album reviews here: Meister Music
CGCM Podcast / Meister on Facebook / Meister on Instagram / Meister on Twitter / Meister's Email
[embedyt] https://www.youtube.com/watch?v=rXS7TwXW1a0[/embedyt]
[embedyt] https://www.youtube.com/watch?v=qrsQjEAzhOg[/embedyt]