Just when CGCM/Decibel Geek followers and friends of Rich "The Meister" Dillon thought he couldn't possibly add another event into his already packed yearly schedule, along comes WITCHES HEX FEST 2019. This first-year event takes place in Cleveland, Ohio on August 9 & 10, 2019. Billed as: "Heavy metal fest featuring only true female-fronted bands. From old glories to newer assaults!", this is perfect for The Meister.
As well as the awesome bands (see current confirmed list below) WITCHES HEX FEST 2019 is also hosting a Heavy Metal Flea Market. Information on confirmed vendors and how to become one is also below.
The venue is The Beachland Ballroom & Tavern, 15711 Waterloo Rd, Cleveland, Ohio 44110, United States. Which also hosted the Metal Holiday Food Drive that Meister attended in 2017.
WITCHES HEX FEST 2019 BANDS CONFIRMED
Bitch (Heavy Metal – CA) – Bitch
Detente (Speed Thrash Metal – CA) DÉTENTE
Lady Beast (Heavy Power Metal – PA) – Lady Beast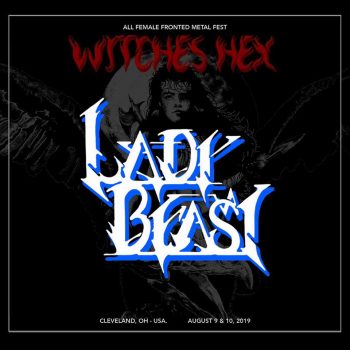 Outline (Speed Metal Punk, OH) – Outline Metal
Rough Spells (Psy Heavy – Canada) – Rough Spells
Savage Master (Heavy Metal – KY) – Savage Master
Sirenhex (Power Thrash – CA) – SirenHex
Smoulder (Doom – Canada) – Smoulder
Soul Grinder (Heavy Death) – Soul Grinder
Tartarus (Black/Death Metal) – Tartarus
Bands will be announced one by one every Monday and Thursday.
WITCHES HEX FEST 2019 Vendors:
Speed Clothes – Speed Clothes
Hells Headbangers – HELLS HEADBANGERS
HPGD Prods – Horror Pain Gore Death Productions
Friday at 5 PM – 11 PM / Saturday at 3 PM – 11 PM
HOW TO VEND
If you have a store, distro, label, or hell, a garage full of crap, this is a great opportunity for ya! For more information related prices and available spots, contact us at: outlinemetal@gmail.com
You'll have the right to: – Sell your stuff both days – Two (2) full-pass tickets. – See your logo in the official flyer – Get featured here in our site and social media! (promo)
Better yet, come to hang out with us!
We want to make this event an unforgettable one, so you, wherever you're living, come to hang out with the best female fronted metal bands in the underground and support the scene by sharing a beer with talented heavy metal babes! Beers will be super cheap and there's free parking!

TICKETS ON SALE SOON!
With Lady Beast on the bill, you know I'll be going to this one…and they did say "Beers will be super cheap"! Who's joining me here?
Cheers,
The Meister
CGCM Podcast / Meister on Facebook / Meister on Instagram / Meister on Twitter / Meister's Email